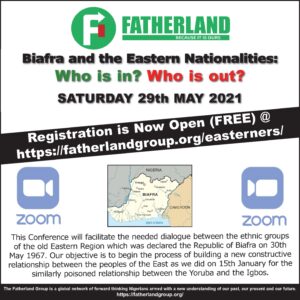 The Fatherland Group is inviting you to a webinar:
Biafra and the Eastern Nationalities:
Who is in? Who is out?
Date: 29th May 2021
Time: 3.00pm to 6.00pm (GMT)
Venue: Zoom (Webinar)
Click Below to Register:
https://zoom.us/webinar/register/WN_V0J-fADESpmKrgGZRagUkQ
After registering, you will receive a confirmation email containing information about joining the webinar.
We look forward to seeing you!
Objective
This Conference will facilitate the needed dialogue between the ethnic groups of the old Eastern Region which was declared the Republic of Biafra on 30th May 1967. Our objective is to begin the process of building a new constructive relationship between the peoples of the East as we did on 15th January for the similarly poisoned relationship between the Yoruba and the Igbos.
The Fatherland Group is a global network of forward thinking Nigerians armed with a new understanding of our past, our present and our future.