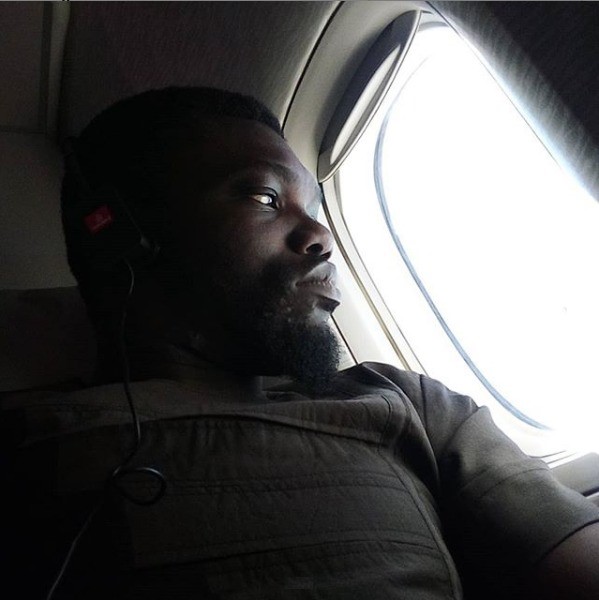 Published 2 days ago
on 2020/11/12
Estimated Reading Time: 17
"I've been getting calls. I've been getting many calls, David. You have been writing things. Have you seen the SSS Headquarters in Abuja? It goes 7 storeys underground. When they put you inside there, even with these your glasses, you won't be able to see anything."
These remarks, delivered at a family function in 2019 with a smile and a laugh from the mouth of an uncle who had just retired from a top job at one of Nigeria's security agencies, was the first time I ever received something that could be classified as a "threat." At the time, I was no stranger to receiving angry feedback over my work.
Just a few weeks before, a daughter of Chief Festus Okotie-Eboh had obtained my number and called me angrily over a BusinessDay column which quoted historically verifiable accounts about him, including a quote from former Singaporean Prime Minister, Lee Kuan Yew. She then sent me a hagiography about her father written by Prof. Akinjide Osuntokun titled 'Chief Festus Okotie-Eboh: In Time and Space.'
I never read beyond a few pages.
This however, was the first sign to me that the act of journalism was becoming an act of war in Major General Buhari's Nigeria. Over the next 15 months, the events that would unfold, including a legislative and regulatory assault on freedom, a civilian massacre, and the creation of a list of "enemies of state" by the Defense Intelligence Agency (DIA) and the State Security Service (SSS/DSS) would eventually culminate in an early morning illegal border crossing carrying only a rucksack and the clothes on my back. Before and after me would come several prominent individuals from the media and CSO space, all of us driven into exile by a murderous hostile regime occupying the only country we have ever called home.
Abacha-ism had found its way back into Aso Rock, and we were all going to caught up in its epicentre. I just didn't know it yet.
The Private Sector Opening Salvoes
A problematic idea that I once had about the crackdown on press freedom in Nigeria was that it is exclusive to, or at least dominated by the government. As I began to find out in January 2020, this is not even close to true. That month, I published a story outlining mistreatment of employees at UBA and Dangote Group. The reaction came as a rude shock.
Around 16:30 on January 11, I received a call from someone who introduced himself as Ramon Nasir from UBA's corporate communications department. He said that the bank's CEO Kennedy Uzoka wanted us to "meet" at Alliance Francaise, Osborne Road, Ikoyi at 7PM. I spoke to my editor who advised me not to go, and I politely declined.
I then tweeted about the incident as a sort of personal insurance policy, after which Mr. Nasir called back angrily demanding that I take the tweet down and not mention the bank's brand name. Feeling a bit alone and out of my depth at this point, I unwisely deleted the tweet before thinking it through. I then received a message from a security expert I am friends with telling me not to sleep at home and to change my address immediately, so I passed the ensuing two nights at my office.
I had a flight to Dubai lined up coincidentally for the 15th, so I went out on the 13th to change some money and go back into hiding. I ordered an Uber from my office, then located at 66, Daffodil Park, LSDPC Estate Scheme 4, Ogba, and an unusually new Toyota Camry with tinted windows showed up. I sensed something was amiss and the driver probably noticed my hesitance too. He immediately swung the car around and drove off hastily.https://platform.twitter.com/embed/index.html?dnt=true&embedId=twitter-widget-0&frame=false&hideCard=false&hideThread=false&id=1216664050945470465&lang=en&origin=https%3A%2F%2Fnewswirengr.com%2F2020%2F11%2F12%2Flast-week-i-went-into-exile-the-return-of-abacha-ism-and-the-assault-on-freedom-in-nigeria%2F&theme=light&widgetsVersion=ed20a2b%3A1601588405575&width=550px
To cut a long story short, I got onto my Emirates flight on the 15th after hiding out at an Airbnb under an assumed name. I spent a week in Dubai monitoring the situation until I figured that it was safe to return, by which point I had postponed my return flight twice.
When I determined that it was safe to come back, I spent the next 7 months living on the move, changing Airbnbs weekly and never driving myself so as not to get spotted and linked to a vehicle that could be targeted. All of this was done under my native name 'Nugboyon,' so that nobody could link their Airbnb guest or Uber rider to the journalist "David Hundeyin."
In August, I published an analysis of the Corporate and Allied Matters Act (CAMA) 2020 which used publicly available information to point out a very clear and obvious piece of beneficial legislation intended to enrich an individual using state power. In response to my story, I got this in my Twitter inbox.
For good measure, Dr. Layonu then sent a reminder a month later demanding that I retract my factually correct and extensively researched story, lest he let the full weight of his SAN-ship fall on my insolent head.
My response as ever, was every bit as angry as it sounded.https://platform.twitter.com/embed/index.html?dnt=true&embedId=twitter-widget-1&frame=false&hideCard=false&hideThread=false&id=1310561209654091777&lang=en&origin=https%3A%2F%2Fnewswirengr.com%2F2020%2F11%2F12%2Flast-week-i-went-into-exile-the-return-of-abacha-ism-and-the-assault-on-freedom-in-nigeria%2F&theme=light&widgetsVersion=ed20a2b%3A1601588405575&width=550px
When it came to bullying people into keeping silent using sheer economic or state power however, the worst was yet to come. Once again, I would find myself at the centre of a storm for the unforgivable crime of simply doing my job.
The Lekki Massacre And The Curious Case Of The Slow Internet
On Tuesday October 20, 2020, Nigeria witnessed a tragic event. Following weeks of sustained protests around the country as part of the End SARS movement, the security forces took brutal, unexpected and unwarranted lethal action at the spiritual epicentre of the protest movement. As the tragic events of that night were unfolding, a side story was also brewing with its own set of potentially seismic implications for Nigeria's majority youth population.
There were questions about everything from international collusion to how come mobile network access and internet speeds suddenly fell off a cliff. Some suggested that Nigeria's mobile Telecom operators were in fact collaborating with the security agencies to hide evidence of the shooting from the world. The events of this side story became the subject of much debate and conspiracy theory – why did internet speeds suddenly nosedive, and why did all network service providers record similar outcomes including difficulty making calls and sending messages simultaneously? Why did this coincide perfectly with the Lekki Massacre and its immediate aftermath?
Even more puzzling was the question: Assuming that the mobile networks were in fact working with the Lekki assailants, why was the internet not completely shut down altogether, as has been seen in other African countries like Togo and Tanzania? Why were at least 2 people still able to stream live videos of the events at the Lekki Toll Plaza on social media, and why could hundreds of thousands of network users watch these videos, albeit with slower speeds while others experienced total downtime even for voice and SMS? Why have these slow speeds and service outages persisted for network users across Nigeria since then?
For the first time since October 20, what happened with the internet service at the time of the Lekki Massacre can now be authoritatively revealed. The reason for the outage was buried inside a statement I received from a source at the Association of Licensed Telecom Operators of Nigeria (ALTON) a few days ago. The statement reads as follows:
"All members of the Association of Licensed Telecom Operators of Nigeria (ALTON) receive with deep sadness, news of the killing of unarmed protesters in Lekki, Lagos last night. We believe there was nothing warranting the killings. 20-10-2020 will forever be remembered in our history. We sympathise with the families of those who were cut down in their prime and pray that God will give them the fortitude and strength to bear the irreparable losses.

The downtime has been compounded by fibre cuts that have occurred across major routes in the metropolis resulting in congestion and poor services. Unfortunately, movement restriction and the volatility of the streets have conspired to ensure the outage persists because engineers have not been able to access the sites to fix the problems.

At the moment, the affected member operators are exploiting all avenues to remedy the situation. Engineers are working round the clock to access the sites, while in the interim there are plans to optimize coverage from other hub sites, deploy mobile sites and reroute traffic on fibre links as a stop-gap solution to the most impacted locations."
The reason for the intense service outages was strategically buried in the middle of this passively-worded statement, but it will not have escaped the curious eye – "fibre cuts that have occurred across major routes in the metropolis." In plain English, this means that someone cut the fibre optic cables that supply Nigeria with high speed internet in several locations across Lagos simultaneously, causing network interruption – or sabotage, as you might otherwise call it.
I read the statement several times and shared it with a couple of trusted friends to confirm that I was indeed reading what I thought I was reading. If I was, this statement would implicate whoever knew where the cables were buried and had the technical capacity to disrupt them in multiple locations at once. Since the networks had distanced themselves and made their dissaproval clear with an unusually strong statement, that would leave only one other suspect with the same information and physical tools that the networks had.
Nigeria's fibre optic cable infrastructure originates in Lagos where it feeds from an undersea cable. From there, it fans out across the country to service Nigeria's estimated 112 million internet lines via a vast network of mobile base stations owned and maintained by IHS Towers. Fibre optic cables are typically laid underground and specifically in such a way as to minimise the potential for network disruption due to external disturbance.
In February 2020, Airtel Nigeria reported that it suffered 1,022 fibre cuts in six months. 405 of these cuts were attributed to roadworks, and 617 were attributed to vandalism. If we extrapolate from this that roadworks and vandalism are to blame for most fibre cuts in Nigeria, it then begs the question – What roads were being worked on, or what vandals were digging for cables to steal at 7PM on Tuesday October 20, hours after a 24-hour curfew had been declared by the Lagos State government?
For the "series of fibre cuts" to take place and to do so in such a manner as to disrupt network services almost simultaneously, indicates a coordinated attack on network infrastructure that night. In other words, an unknown party working outside of the knowledge of the mobile telecom providers intentionally and systematically interrupted the fibre optic cable providing most of Nigeria with its high speed internet access. Whether this was done specifically to coincide with the Lekki Massacre is of course impossible to say, but what we do know is that an external attack on physical fibre optic cable infrastructure feeding Nigeria with high speed internet access coincided perfectly with when soldiers from 81 Division allegedly opened fire on peaceful protesters at the Lekki Toll Plaza.
Which is a remarkable coincidence, to say the least.
In the absence of high speed fibre connectivity, the networks deployed (slower) redundancy options to provide network access alternatives including direct satellite bandwidth, so as to keep their users online. This explains why many users in the Lekki Area (self included) could still access the internet with a measure of reliability, albeit at slower speeds than normal – including DJ Switch who streamed the Lekki Massacre and its aftermath on Instagram Live for almost two hours, reportedly using a MTN connection.
I was either going to sit on this information while the Lagos Judicial Panel pretends to investigate what the whole world watched in real time, or put my life in danger by directly implicating the Nigerian government as the only other party that could have known where to dig, what to cut, and the exact time to do it.
I chose a third option.
Nigerian CSO Leaders Weigh In On Abacha-esque Media and Civil Society Exodus
What does the phenomenon of peaceful protesters fleeing the country under Buhari's watch mean for the current state of affairs in Nigeria ?
"This is an indicator that the state has failed. How can a country declare war against its youth in the manner the government has done? The country will remain worse off as we continue to lose our best brains because they chose to speak against state oppression and systematic violence. The last few days have seen the Government engaging in provocative actions against its people. Only authoritarians or unpopular governments appropriate force, blackmail, intimidation and violence against innocent citizens whose crime is demanding accountability from leaders who are holding power in trust for the people. These are dark days for our 21 year-old democracy."
Samson Itodo – Executive Director, Yiaga Africa, an African Election think tank and Election Observation Grouphttps://platform.twitter.com/embed/index.html?dnt=true&embedId=twitter-widget-2&frame=false&hideCard=false&hideThread=false&id=1326624276443750401&lang=en&origin=https%3A%2F%2Fnewswirengr.com%2F2020%2F11%2F12%2Flast-week-i-went-into-exile-the-return-of-abacha-ism-and-the-assault-on-freedom-in-nigeria%2F&theme=light&widgetsVersion=ed20a2b%3A1601588405575&width=550px
"It's essentially a return to the bad old Abacha days when many people, including a number of the current leadership of the APC, had to flee into exile because their lives were not safe in the country. It shows an arbitrariness to the country's approach to things which is not good for things such as ease of business, and most importantly, when juxtaposed with the manner in which violent men are given "amnesty deals" and feted, it shows a country that values violence a lot more than it values reason. That is all a toxic mix that portends a dark time for Nigeria."
Cheta Nwanze, lead partner at SBM Intelligencehttps://platform.twitter.com/embed/index.html?dnt=true&embedId=twitter-widget-3&frame=false&hideCard=false&hideThread=false&id=1326480309249044480&lang=en&origin=https%3A%2F%2Fnewswirengr.com%2F2020%2F11%2F12%2Flast-week-i-went-into-exile-the-return-of-abacha-ism-and-the-assault-on-freedom-in-nigeria%2F&theme=light&widgetsVersion=ed20a2b%3A1601588405575&width=550px
Last Week I Went Into Exile
I finally decided to leave Nigeria the week after the Lekki Massacre. I did not leave Nigeria because I was scared of Muhammadu Buhari's brutal regime. I did not leave Nigeria because I found it to be the easier thing to do – quite the opposite in fact. I decided to leave Nigeria because I knew that I would never be silent as the Buhari regime – possessed as it is by the ghost of Sani Abacha – drags Nigeria back to 1996. I knew that the story would end either in the SSS underground cell my uncle described in Badagry last year, or in an unmarked grave like so many others – two outcomes that would not help anybody except Major General Buhari and the cult of personality around him.
I decided that the best outcome would be to maintain my voice, which is why on Thursday last week, I made the journey to my hometown for probably the last time in a long time, enroute the border. In the time-honoured style of the infamous NADECO route, I made my way across the border using the assumed identity of a student, carrying only a rucksack and some cash.
Just as in the 1980s and 1990s, a free-born citizen of Nigeria who has never committed a crime and only wants the best for his homeland has once again been forced into exile by a murderous military government whose bloodguilt is matched only by its paranoia. More of my colleagues in the journalism and civil society have since followed in this new-age NADECO rat-line endurance trek across national boundaries, dodging soldiers, swatting flies and dealing with acute humidity while trudging through the thick West African mud in pursuit of a limited amount of freedom in countries that are not our own.https://www.youtube.com/embed/lAhHTl_yUJM?feature=oembed
One day, we will be back – not even Major General Buhari and all his bullets can deprive us of our god-given home. One day Muhammadu Buhari and everyone around him will be held accountable for the death and human suffering they are responsible for. In the everlasting words of Fela Anikulapo-Kuti, One day will be one day.
For now, it is time to settle down for at least another three years of Abacha-ism in Aso Rock. People will suffer. Some will die. Many more Nigerians who are only guilty of wanting a better life will go into exile. Political prisoners will fill Nigeria's prisons once again. Journalists, student unionists, human rights activists, feminists, trade unionists and everyone else with an interest in freedom, life and happiness will once again be the enemy.
The fight for democracy has started again.
Sani Abacha is back from the dead.
Bashir Magashi is back.
Muhammadu Buhari is back.
1996 is back.
Amnesty International's Statement on Attacks Against Nigeria's Civic Space
The Community of Practice Against Mass Atrocities and a coalition of other civil society organizations across Africa signed below, condemn in the strongest terms, the renewed attacks on Nigeria's civic space, and in particular, on Amnesty International's Nigeria staff and offices.
We have observed with dismay recent events in Nigeria's civic space, in particular threats to citizens and civil society organizations who dared to demand good governance through the #EndSARS movement, or sought to amplify their voices.
Through the course of the protests, and in its unfortunate aftermath, we note with concern, negative roles played by both state actors, and non-state actors with the acquiescence of the state. Specifically:
1. Peaceful #EndSARS protesters were attacked by violent counter-protest groups with the support of persons who had access to tools of the state;
2. Violent attacks on security agents and state assets by assailants who appear to enjoy the protection of state assets;
3. Extrajudicial killings and brutality by the state on peaceful protesters, in particular, the attack on unarmed and peaceful protesters at the Lekki Toll Gate Lagos on October 20, 2020;
4. The failure of the government to acknowledge its role in the breakdown of law and order in the aftermath of the #EndSARS protests;
5. The clamp down on supporters of the #EndSARS protesters through an extrajudicial "No fly list" and the freezing of their personal and corporate bank accounts;
6. An orchestrated campaign to tarnish digital expression in order to find an excuse to shut down social media in Nigeria;
7. Intimidation of and attacks on the media in order to induce further self-censorship and uncritical regime support;
8. The failure of government to arrest and prosecute persons and groups who in public forum including press conferences threatened to inflict violence on human rights advocates, #EndSARS protesters, and their supporters; and to instigate 'civil disobedience. For example:
a nameless group, which self-identified as 'Abuja Indigenous People', which on October 19, 2020, threatened to attack #EndSARS protesters at the nation's capital;
The Centre for Africa Liberation and Socio-Economic Rights (CALSER) led by a "Princess Ajibola", which on November 4, 2020, threatened to attack Amnesty International's offices and staff in Nigeria for their unbiased documentation of the attack on peaceful protesters at Lekki Toll Gate in Lagos, and issuing them a 7 days ultimatum to leave the country. Specifically, the group stated that "Amnesty International's offices and those of all its affiliated organisations and known supporters in Nigeria will be set upon the same way that "its agents destroyed critical assets in the country"
We are particularly concerned about the regular threats and attacks on Amnesty International's Nigeria Office and staff for their work exposing human rights violations within the country. Rather than treat them as partners in ensuring an orderly, democratic society built on the ethos of the protection of the rights and dignity of all citizens, the government and nameless groups clearly enjoying the protection of the government and its agencies, have sought to attack the organization and its staff through a sustained campaign of intimidation.
We remind the Nigerian government that the Constitution mandates that their primary purpose is to ensure the security and welfare of all citizens; and that their security and welfare cannot be fulfilled where their human rights are violated.
In a democracy, citizens must always be able to express dissenting opinions and demand accountability of those that they employ through the ballot, and through the institutions of the state. Government must ensure that they by no means shrink the very space that brought them to power, and fosters the sovereignty of its employers – citizens.
We therefore ask the Nigerian government:
1. To ensure the security and welfare of all, and to ensure that the rights and dignity of all citizens, including those who demand accountability and have dissenting opinions, are protected at all times
2. Investigate and prosecute the threats to the staff and facilities of Amnesty International in Nigeria; and in addition preempt the threat of attack by providing them with adequate security.
3. Immediately remove the unlawful no-Fly list designed to deny the constitutionally protected right of freedom of movement of persons whom the government chooses to link to the #EndSARS protests and to remove the transaction embargo on the accounts frozen.
4. Ensure that it investigates and prosecutes all persons who participated in the attacks against security personnel, state assets, and peaceful protesters in the context of the #EndSARS protests.
The Government's aforesaid actions and continued abuse of the human and constitutional rights do not foster constitutional stability, or democracy of Nigeria, or Africa at large.
Signed
For Community of Practice Against Mass Atrocities:
Global Rights
Witness
Centre for Community Excellence
Srarina Initiative for Peace Justice and Development
Alliances for Africa
Sesor Empowerment Foundation
Tap Initiative
Women Crisis Centre
Kebetkache Women Development And Resource Centre
Benue We Deserve
BCDA
---
Disclaimer
It is the policy of NewsWireNGR not to endorse or oppose any opinion expressed by a User or Content provided by a User, Contributor, or other independent party. Opinion pieces and contributions are the opinions of the writers only and do not represent the opinions of NewsWireNGR